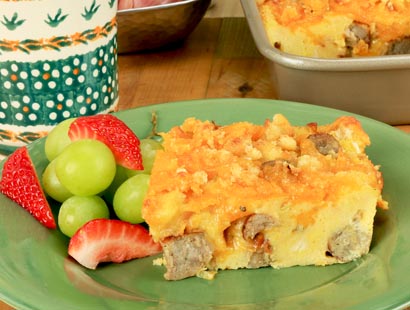 Sausage & Egg Breakfast Casserole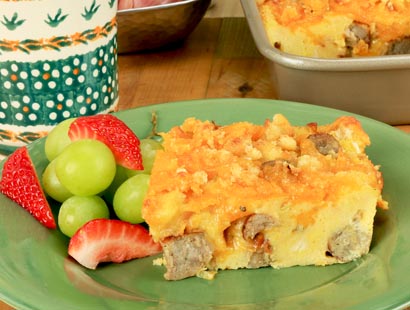 Ingredients
| | |
| --- | --- |
| 10  | Large Eggs |
| 1 cup  | Whole Milk |
| 2 teaspoons  | Salt |
| 1 teaspoon  | Ground Black Pepper |
| 2 tablespoons  | Extra Virgin Olive Oil |
| 1 | Medium Shallot, minced |
| 18 ounces  | Jones Dairy Farm All Natural Uncooked Pork Sausage Links, thawed |
| 10 slices  | White Bread, dried |
| 2 1/2 cups  | Sharp Cheddar Cheese, divided |
| 2 tablespoons | Whole Unsalted Butter |
Share Recipe
Directions
Pre-heat oven to 350°F. Beat eggs until homogenous and whisk in milk. Add salt and pepper and set aside.

Put a sauté pan over medium heat and add oil. Once hot, add minced shallots and sauté until fragrant. Remove shallots from the pan and set aside.

Place pan back on heat and keep heat at medium, place sausage in hot pan and cook until sausage is golden on all sides. Turn down heat to medium-low and let sausage cook through, about 5-8 minutes.

Once cooked, let cool and cut into bite-sized pieces. Add sausage to shallot and egg mixture. Dice 9 slices of dried bread into approximately 1-inch cubes; add to egg mixture. Add 2 cups cheese mixture and combine.

Place mixture into greased 8-inch casserole dish. Place in oven and bake for 30 minutes or until almost set.

While casserole is baking, put remaining bread into food processor and pulse until crumbs are formed. Combine bread crumbs with butter and set aside. Turn up oven to 400°F and top with remaining cheese and bread crumbs.

Bake until casserole is set and golden brown. Take out of oven and let rest for a few minutes before serving.


get in touch
Ready to Add Jones to Your Menu?
More Breakfast Sausage Recipes